Innovation Nation
'Digital pill' with chip inside gets FDA green light
By Erin Kim
@CNNMoneyTech
August 3, 2012: 12:39 PM ET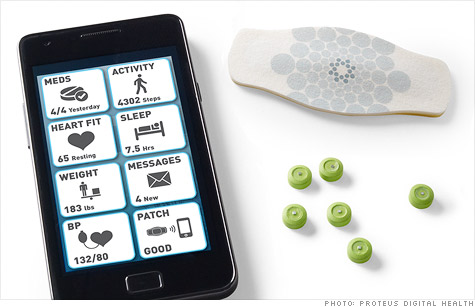 Proteus Digital Health's monitoring system includes a mobile app, pills with embedded chips, and a stick-on patch that tracks your body data.
NEW YORK (CNNMoney) -- Ever wonder if you remembered to take your pills this morning? A medical tech startup has a novel solution: Swallow a computer chip that will help you keep track.
Proteus Digital Health
scored a big victory this week when the U.S. Food and Drug Administration granted approval for the company's "ingestible sensor" invention. The 1 square millimeter device -- roughly the size of a grain of sand -- can relay information about your insides to you, and if you choose, to your doctor or nurse.
http://money.cnn.com...sensor-proteus/
For more info, visit proteusdigitalhealth.com Their website says the information from these digital meds is stored in a "secure database accessible from a variety of devices".
Anyone else see this as a potential problem or is my CT brain working overtime?